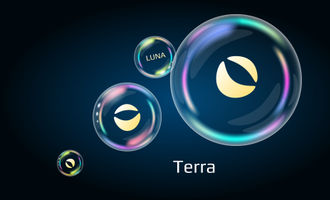 Flux and Terra announced four days ago they are integrating their ecosystems.  Both projects are committed to a decentralized Web3 and their partnership makes perfect sense.  The article covers how Flux, a little known project, coin saw a significant rise in price within a few days.
Flux price went parabolic after a deal with Terra.
The two networks will work and integrate closely with one another.
The Flux price jumped by more than 20% on Tuesday as investors cheered the new partnership between the developers and Terra. The coin spiked to a high of $2.10, which was the highest level since January this year. It has a market cap of over $420 million and is now the 162nd biggest cryptocurrency in the world.
Terra and Flux partnership
Terra is one of the leading blockchains in the world. LUNA, its native cryptocurrency, has a total market cap of over $29 billion, making it one of the biggest coins in the world. It is well-known for its stablecoins like Terra USD and its DeFi platforms like Astroport and Anchor Protocol.
Flux, on the other hand, is a leading player in the Web3 decentralized infrastructure industry. It provides a comprehensive suite of products that developers use to build their apps. According to its website, it has over 11,000 Flux Nodes that have a combined 78,000 + CPU cores. It also has over 238 Terabytes of RAM and 5,000+ Terabytes of storage.
The Flux price is rising after the two platforms announced that they will start a new collaboration. This partnership will have several processes. For example, it will involve the development of Terra on the Flux ecosystem. Further, Flux will deploy Terra apps like Mirror and Anchor in its ecosystem while the Flux Token will be launched on Terra.
Related: Zelcore | Flux Network's Wallet Secure Access to Web3 Metaverse Blockchain 2022
There are other features of the deal between the two networks. For example, the official Flux Wallet will support LUNA and other tokens while users will have the ability to import any Terra token they want. In a note, Flux's CEO said:
"The entire Flux team is looking forward to working with Terra. I have a lot of respect for the Terra team. They set a clear goal and vision for themselves and they're delivering on that vision with great dedication."
Flux coin price prediction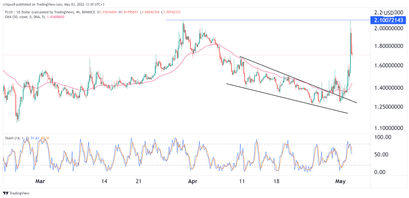 The four-hour chart shows that the Flux price was forming a falling wedge pattern before it went parabolic this week. The coin managed to move above the important resistance at $1.5560. It also jumped above the resistance at $1.6900 and the 25-day and 50-day moving averages. The Stochastic Oscillator has moved below the overbought level.
Therefore, there is a likelihood that the coin's price will continue falling as bears target the support at $1.40. This drop will happen as the momentum starts fading.